Quote:
Originally Posted by
mountainman

1)
Fernando Conde Torrens
- Simón, opera magna : las pruebas de la falsificación [Spanish] (2005??)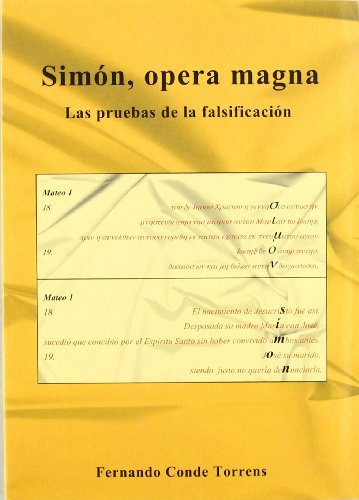 Fernando Conden Torrens talks about some of his interests in the following
video
inluding writing
SIMON, OPERA MAGNA. LAS PRUEBAS DE LA FALSIFICACION
. In a nutshell, the central thesis of the book is that the New Testament was written in the fourth century by someone who left the coded signature of "Simon" over 4,000 times in the writings. For those who aren't fluent in spanish, the following is a short google translation concerning the book.
Quote:
. . . Actually, the four Gospels are the work of the same person. The entire New Testament is the work of that person. That person did not live in the first century. He lived and wrote the New Testament in the fourth century. That person was against counterfeiting which he was forced to make, so that he dynamated the building he built when writing every sentence that incorporated the "sacred Christians writings" which became the word God.

* His signature has five letters, "Simon".

* In the four Gospels there are 2,000 signatures of Simon, one after another. In the rest of the New Testament (Epistles of Paul, Acts, Revelation, etc..) Are another 2,500 signatures. Throughout the New Testament, about 4,500 signatures.

* It is located by the method signatures, Simon. Eusebius of Caesarea who "loyally" served the Emperor Constantine.

* The Emperor Constantine did not convert to Christianity, he commissioned it. Christianity is the religion that Constantine wanted for his Empire. And sent [Simon] to create it.
http://translate.google.com/translat...om%2FSimon.htm