The oppressed dream of liberators and the privileged advertise for a strong man to maintain law and order.
The victors celebrate with a eulogy to victory and the defeated dream of becoming the rulers of Hades.
The victors glorify life and the defeated glorify the kingdom of death.
Romans were one of those people
"Constantius subsequently entered the city of London to proclaim his conquest as restorer of the eternal light of the Roman Empire: Redditor Lucis Aeternae."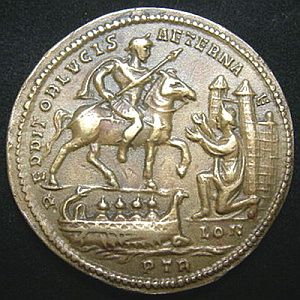 This image is an enlarged photograph of the reverse of a bronze copy of the famous ten aurei multiple (RIC VOLUME VI, TREVERI, No. 34), the original of which presently resides in the museum at Arras, commemorating the restoration of Britain to the Roman Empire by Constantius in 296.
It depicts the personification of Londinium (LON) kneeling and supplicating to Constantius (on horseback) outside of the City Fortification while a galley with Roman soldiers waits on the river Thames.
The inscription REDDITOR LVCIS AETERNAE proclaims Constantius as the restorer of the eternal light (of Rome). The Treveri (Trier) mint mark (PTR) is in the exergue.
http://jp29.org/cgau.htm